The advantages of aluminum windows and doors
Aluminum windows are a modern, durable and energy-saving solution that slowly conquers housing construction.
The most important advantages of aluminum joinery include:
it is light and very aesthetic
its small mass allows for many possibilities of shaping the building
is characterized by high durability
it is durable and resistant to changing weather conditions
it is non-flammable (and therefore does not intensify a possible fire)
it is resistant to corrosion (especially because it uses special reinforcements of profiles, with the use of components enriched with magnesium or silicon)
it does not electrify or attract dust
it is easy to maintain, it means it is cleaned quickly and does not require any special protection
it is resistant to creases, mechanical damage and deformation (it can thus survive unchanged for many years)
allows for noticeable energy efficiency
has many applications (both in terms of building types and the type and shape of windows)
has the appropriate stiffness of sections
gives the possibility of using different colors and decorative and protective coatings
it is an ecological material – giving the possibility of recovery and re-processing
Aluminium Windows – Durable, modern, energy-saving
For the production of aluminum windows, warm profiles are used, made of two aluminum profiles and a thermal insulation spacer. Profiles (like PVC) have chamber construction filled with the latest generation of thermal insulation materials, that's why in numerous tests they will get above average results, but they do not need reinforcements (they do not require using steel stiffeners inside the window, which affects their weight)
Several-chamber aluminum profiles are filled with thermal insulation materials of the latest generation, thanks to which the windows achieve very favorable parameters of the U-value, ie heat transfer, with the value Uw = 0.79W / (m2K) -Aluron see drawing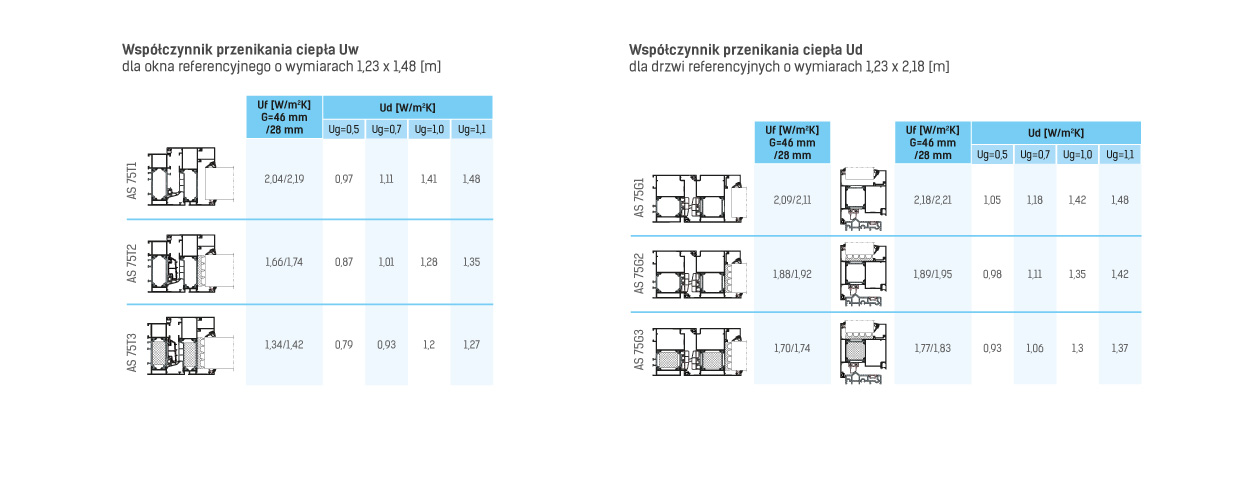 Aluminum windows can thus be slimmer and allow for a larger glazing area, which provides a greater supply of sunlight to the apartment. It also gives the whole house or apartment an elegant, modern look. In addition, their color can be selected from a wide range of RAL colors. Aluminum profiles can be anodized or powder painted, which can not be done with wooden and PVC windows. They are very easy to clean, and causing any scratches is much more difficult than with other frames.
Aluminum is a material resistant to changing weather conditions. Wind, snow, long-lasting moisture are no obstacle for him. In contrast to wooden windows, we can be sure that they are not overgrown with moss, fungus, mold. They do not fade and do not become discolored under the influence of solar radiation, like PVC joinery.
Center bar width only 25 mm and maximum glazing L = 4000mm H = 4000mm (Cortizo Corvision Plus sliding door system)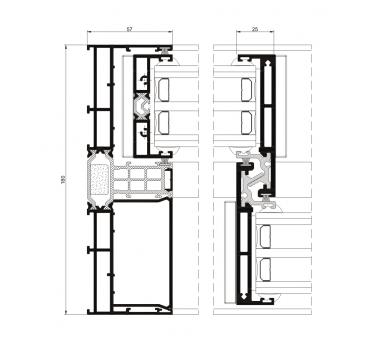 The color palette of aluminum profiles is basically unlimited. They can be powder coated or anodized in any color. Red, navy blue, green? Among varnished windows, we find different shades, other colors from the RAL palette are also available. The offer on the market is huge – a finish imitating the color and wood graining? Nothing hard. However, the most popular are windows in natural aluminum or dark gray RAL 7016 Anthracite, less often in gold or brown.
The surface of aluminum windows can be matte, metallized or glossy. You can also choose profiles in a different color outside the window and in another from the inside. With this extremely plastic material you can shape any shape – arc, trapezium or circle – and the most unusual size. Profiles can be both very narrow and wide, and thus – capable of maintaining huge glazing, characteristic of modern design.
Windows with aluminum profiles are perfect for so-called urban architecture – suits both modernist, Italian and industrial-inspired villas. They look great on the facades of houses, for which plaster was used in shades of gray, polished granite or slate or clinker in the colors of graphite or sandy yellows.
In addition to protecting the building against heat losses, aluminum window systems also provide excellent protection against intruders. Thanks to the use of resistant aluminum constructions along with anti-burglary glass, aluminum windows are an obstacle difficult to overcome for unwanted guests. There is also the possibility of using special anti-theft elements and fittings designed specifically for this type of construction. The offer of aluminum windows has window systems in burglar classes from RC1 to RC3
An important feature of aluminum products is also the fact that in the event of a fire, aluminum systems will not deal with fire, smoke or cause the fire to spread. Manufacturers of aluminum joinery also offer special solutions for door systems, walls and fire-resistant fronts, dedicated to rooms where there is a risk of fire and also guarantee safe conditions for evacuation of people in the event of a fire.
Aluminum joinery allows you to create quite large glazing in the building construction. This does not adversely affect the energy-saving parameters of windows (they remain on the same – high – level throughout the long-term use of aluminum joinery).
A good insulation or protection against heat loss is ensured here by the use of proper insulators in the window profiles.
I am talking here, among others with thermal breaks (placed in window profiles) made of polyamide.
Thanks to this, it ensures good thermal insulation in all weather conditions.
Aluminum windows using appropriate glazing units (eg a 2-chamber package filled with argon using warm frames, eg. Cheomatech with low-emission glazing), can function in the most demanding – in terms of energy efficiency – buildings, such as passive houses.
Investors can often opt for systems with increased thermal insulation.
What is important, currently available on the market aluminum windows and doors have passive construction certificates and the standard here is the wing heat transfer coefficient Uw = 0.72-0.8 W / (m2.K) see above Aluron